Nos bénévoles sont géniaux! Ils sont au cœur de notre organisation. Ce sont eux qui permettent à WALKSAFE de fonctionner chaque jour afin que l'on puisse accompagner en toute sécurité chaque étudiant de McGill ou habitant de Montréal qui désire ne pas marcher seul le soir. Ce sont eux également qui accompagnent les enfants vers leur garderie.
Si améliorer la sécurité au cœur de Montréal et de McGill t'intéresse, que tu aimes aider les autres, et que tu aimes marcher, alors WALKSAFE est surement la communauté pour toi!
Positions within SSMU WALKSAFE
Are you curious as to what you can do within the service? Below are the positions available to volunteers within our service,
less the Executive positions that are available when they are vacant.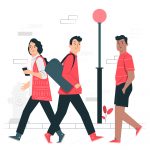 Walker
New volunteers are eligible to apply for this role. Walkers spend their shift in the office on standby until a call comes in. Walkers are arranged in teams of two.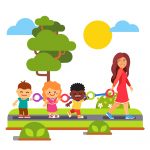 WALKBuddies Walker
New volunteers are eligible to apply for this role. WALKBuddies Walkers accompany elementary school children from their school to their daycare, Monday to Friday during the school year in our WALKBuddies Program.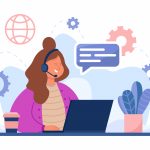 Répartiteur
Returning volunteers with one semester of experience can apply internally for this role. Dispatchers answer calls for safe-walks and dispatch volunteer teams. They are responsible for the logistical side of WALKSAFE operations, organizing and dispatching human resources where they are needed.
Interested in Volunteering?
Are you interested in becoming a member of our service? Follow these steps to apply for our service. Note: you MUST be a current McGill student to volunteer your time with our service.
Step 1: Online Application
Our social media channels with advertise when our recruitment cycle opens at the beginning of either the Fall or Winter terms. From there, you can meet us at activities night, or contact us with any questions you have. Be sure to answer the questions to the best of your ability!
Applications for Fall 2023 are closed, follow us on Instagram to know when recruitment for Winter 2024 starts
Step 2: Interview
If your application is selected, you'll be contacted for an interview once all applications have been carefully reviewed. It will be about 15 minutes in length with at least one member of the current Executive team.
Step 3: Training
Lorsque toutes les entrevues auront été complétées, le groupe de nouveaux volontaires sera sélectionné. Tous les nouveaux volontaires sont tenus d'assister à la session de formation obligatoire. Des ateliers spécialisés supplémentaires seront offert par d'autres organisations externes.
Still have more questions?
Email internal@walksafe.ca for more information on how to be a SSMU WALKSAFE volunteer, or message either our Facebook or Instagram pages!